Building Engineering
Using state-of-the-art tools, our capabilities include:
Pre-construction, construction and post-construction services
Construction management
Design-build
Design-assist
Turn-key project development
Because we are builders who understand every aspect of the project, we have greater control of the entire construction process, from project/risk management to cost/quality controls . We thrive on the challenge of working hands-on, owning the responsibility for the most complex and challenging of projects, both large and small, and consistently delivering the best final cost.
Civil and Environmental Engineering
7G provides an extensive lineup of services in the civil and environmental sector. We have the resources and capabilities to assist clients in all aspects of a project from inception to construction completion; commissioning services through our experienced staff in installation and commissioning PLC control MCC's, trouble shooting , implementing SCADA systems, and carrying out maintenance and services of various water compact facilities throughout the country. 7G engineers have the experience to install and service a wide range of water treatment plants; ranging from pump booster sets and water and waste water pump stations to water storage tanks and chemical dosing equipment.
Our complete approach to water treatment applications includes everything from pre-treatment plants, water treatment chemicals, effluent water treatment, and water hygiene applications. Our managed treatment programs for potable water systems ensure compliance with current regulatory and legislative requirements.
Construction Estimating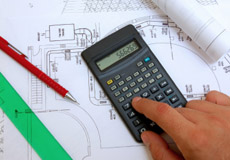 7G recognizes the importance of having accurate quantity and cost estimates before a shovel even goes in the ground. Accurate estimates are needed for budgeting, to verifying or modifying design decisions at the various stages of project development, and to analyze the accuracy and fairness of contractor bid prices. Our estimators provide a cost effective service in bill of quantities preparation, estimating, cost planning, budget and cash-flow forecasts, quantities checks, tender audits, material scheduling and procurement and package compilation.
7G prepares estimates at the various stages of project development, utilizing a Work Breakdown Structure (WBS) to code all our estimate items. The WBS allows us to quickly sort and summarize the cost information according to our clients' needs. We are able to achieve a level of project-specific accuracy by maintaining and updating our own database of construction costs, as well as using the industry's latest estimating software.
An important part of each of our estimates is a quality control review of the documents. To further refine and obtain true construction marketplace estimates, 7G will review the drawings with the "eye," of a contractor: Are there discrepancies between drawings? Was anything forgotten or left out? What sort of constructability issues can the contractor expect? By providing another "set of eyes", we assist the architect in producing a clear and understandable set of documents. It is considerably easier and less costly to clarify the drawings during the design phase rather than face a change during actual construction.
7G's quantity and cost estimating services include:
Quantity Take-off
Value Management
Preliminary Cost Advice
Contractual Advice
Tendering
Valuation of Construction Work
Cost Control & Financial Management
Man Camps
7G offers turnkey and customer tailored project solutions for Containerized Man Camps and prefabricated Infrastructure Facility Constructions. The Containerized Man Camps provide the following:
Site Accommodation Units
Conference Room Units
Classroom Units
Operations Cabin Units