Water / Waste Water Treatment Plant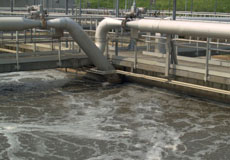 The ingenuity and solid experience of our company has led to the success of industry projects and the development of related techniques. 7G's experience in water supply, storm water management, and water/wastewater treatment ensures the application of sustainable and environmentally sound solutions.
Our core management team consists of former Bechtel employees. The majority of our staff was part of the Water Sector Institutional Strengthening (WSIS) effort under IIRP phase II - Bechtel International Corporation. While working with Bechtel, our group was responsible for the initial assessment of all facilities (WWTP and WTP), identifying and placing orders for equipment procurement, labor and equipment estimating, working with government authorities, and launching the preventive maintenance program, calendars, and inspection sheets.
7G has a wide range of solid relations with international companies specializing in water treatment and waste water treatment. These relations have enhanced our capabilities and allowed us to provide the necessary equipment including motors, pumps, scrapers, filters, gearboxes, switchgear, screens, gates and penstocks, mixers, laboratories testers, and devices.
Our water and wastewater treatment strategies are often combined with operational modifications to reduce costs and improve quality. 7G's engineers provide a full range of services, including detailed design of treatment systems as well as construction and environmental management. Our major services include:
Waste audits.
Contaminant assessments.
Monitoring studies.
Potable and process water treatment.
Wastewater treatment.
Equipment Design / Build
When providing Design-Build services, 7G works with a quality team of engineers, architects, subcontractors, and suppliers to ensure on-time delivery of all projects. Design-Build offers all of the benefits of construction management with the added assurance that the project is completed within budget. 7G has a network of partners that can provide the owner with comprehensive and efficient designs with superior construction services to meet their specific needs.
Field Support
7G boasts a wide network of highly qualified field staff with experience in data logging, collection, and management. 7G encompasses a wide geographic presence in Iraq with advanced logistics' arrangements including field support provisions available to 7G data collection teams.